Maria Cordis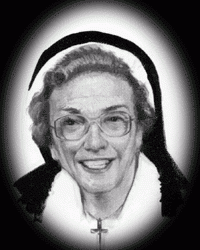 Sister Maria Cordis Brennan (1908-2002)
Inducted: 1997
Sister Maria Cordis is a dynamo in the music education field in Hamilton and Hamilton's best-known music teacher. Born in Guelph, she moved to Hamilton with her family in 1919. She attended Cathedral High School and Hamilton Normal School, where she graduated as a teacher in 1926. While waiting for a teaching position to become available, she worked at Westinghouse in the draughtsman's office.
She began her teaching career at St. Ann's School in 1927, then taught in Hespeler (Cambridge) for six years. By 1934, she had decided on a religious life and entered St. Joseph's Convent. She became music supervisor for Hamilton's separate schools and taught music for 23 years to children in 25 elementary schools. She retired from teaching in 1973. She became active with the Canadian Pensioners Concerned as its President. She has also run a weekly drop-in centre for seniors at Hamilton's Sons of Italy Hall. She leads the YWCA Fun Choir for seniors, plays the organ every day at mass and sits on the board of the Boris Brott Summer Music Festival.
In 1988, she received the Ontario Senior Achievement Award for "outstanding contributions of individual senior citizens to their communities and the quality of life in Ontario". In 1995, as the oldest living graduate, she was chosen to do the "kick off" of the football game initiating the new Cathedral High School. In December 1996, she reached the age of 90. Her secret? "Be interested in what you're doing in your life".