There is nothing to display at this time
Central Library - Tax Clinic Cancellation
Due to unforeseen circumstances, the free drop-in tax preparation service clinic on Saturday, April 8 has been cancelled. Please visit hpl.ca/free-tax-service for other clinic dates. We apologize for the inconvenience.
Publish Date:
Thursday, March 30, 2023 - 3:00pm
Phishing Statement
Please be aware of online phishing attempts impersonating Hamilton Public Library and Library Staff. HPL does not solicit paid freelance opportunities through social media or other messaging applications. HPL does not request personal or banking information through social media or require financial compensation when reviewing job applications. Please report phishing schemes to communications@hpl.ca. If you think you are a victim of fraud, please call the Canadian Anti-Fraud Centre at 1-888-495-8501.
Publish Date:
Wednesday, March 29, 2023 - 8:00am
Barton Branch Makerspace
The iMac at the Barton Branch Makerspace is currently unavailable. We are working to resolve this issue. 
Publish Date:
Tuesday, March 28, 2023 - 2:00pm
Dominic Agostino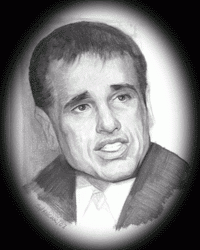 Dominic Agostino (1959–2004)
Inducted: 2008
Dominic Agostino was one of Hamilton's longest serving politicians. He began his public service career as a school board trustee, became a Hamilton city and regional councillor, and was twice elected to the Ontario Legislature. He was a tireless worker for Hamilton and continued to advocate for the city right up until his death in 2004 at the age of forty-four.