There is nothing to display at this time
Phishing Statement
Please be aware of online phishing attempts impersonating Hamilton Public Library and Library Staff. HPL does not solicit paid freelance opportunities through social media or other messaging applications. HPL does not request personal or banking information through social media or require financial compensation when reviewing job applications. Please report phishing schemes to communications@hpl.ca. If you think you are a victim of fraud, please call the Canadian Anti-Fraud Centre at 1-888-495-8501.
Publish Date:
Wednesday, March 29, 2023 - 8:00am
Wi-Fi Unavailable at Red Hill Branch
The Wi-Fi is not working at the Red Hill Branch. Staff is working diligently to resolve the problem.
Publish Date:
Tuesday, March 28, 2023 - 6:00pm
Barton Branch Makerspace
The iMac at the Barton Branch Makerspace is currently unavailable. We are working to resolve this issue. 
Publish Date:
Tuesday, March 28, 2023 - 2:00pm
Holds Processing and Delivery Delays
Holds processing and deliveries to Branches will be delayed for the next week due to Staff capacity.
We are working to move materials as quickly as possible. Thank you for your patience.
Publish Date:
Tuesday, March 21, 2023 - 1:45am
The History of the Bookmobile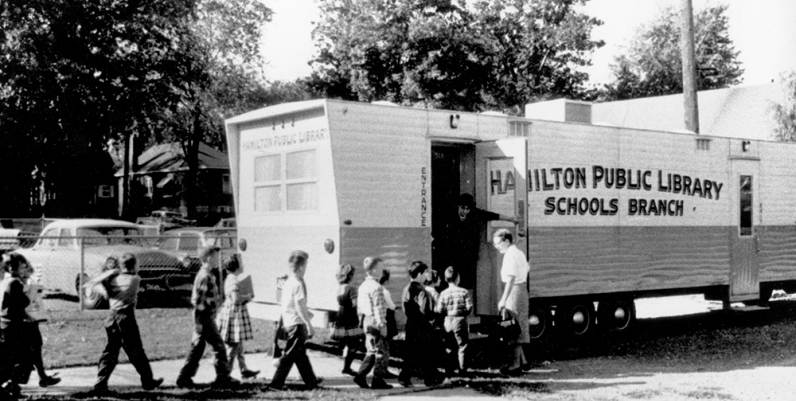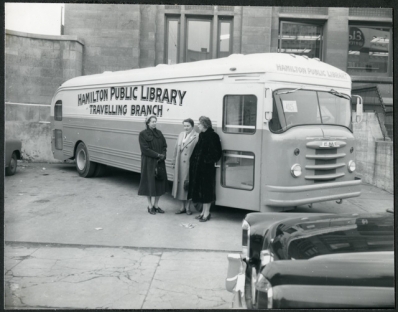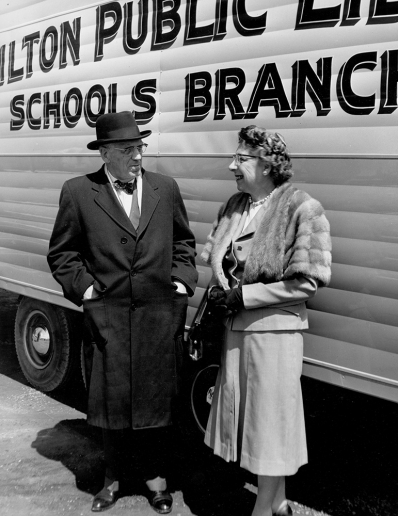 Our library on wheels is a very special and unique part of HPL's public services, allowing us to go beyond the brick and mortar and connect with our many communities in the city of Hamilton.
The first time there was a mention of having a travelling branch for the Hamilton Public Library was in an article in Globe & Mail dated November 16, 1949. Then Chief Librarian Freda Waldon mentioned the idea of having a travelling branch whose chief function was to serve outlying areas beyond a one mile radius from existing library branches. It wasn't until May 7, 1954 that talks of a possible bookmobile was discussed in city council.
Two years later, on December 20, 1956, the first bookmobile rolled onto the streets of Hamilton.
In a Hamilton Spectator article dated January 5, 1957, they talked about how the five stops of the Bookmobile were very popular among children, citing an example of one boy who went back five times, each time bringing someone with him and encouraging them to register for a library card. Another proof of the Bookmobile's popularity was its February 1957 circulation exceeding that of the Main Library's circulation.
Now, the Hamilton Public Library has two bookmobiles and services 12 neighbourhood stops and 25 senior residences. For 2014, the Bookmobile's circulation was at around 123,000. Since October 1973, our bookmobiles have also offered movies in its collection.
The Bookmobile will continue to serve communities that do not have a library branch in their vicinity and provide materials for seniors who cannot travel far anymore. Our friendly staff will surely provide a personalized service and find the perfect material for you.