There is nothing to display at this time
Phishing Statement
Please be aware of online phishing attempts impersonating Hamilton Public Library and Library Staff. HPL does not solicit paid freelance opportunities through social media or other messaging applications. HPL does not request personal or banking information through social media or require financial compensation when reviewing job applications. Please report phishing schemes to communications@hpl.ca. If you think you are a victim of fraud, please call the Canadian Anti-Fraud Centre at 1-888-495-8501.
Publish Date:
Wednesday, March 29, 2023 - 8:00am
Wi-Fi Unavailable at Red Hill Branch
The Wi-Fi is not working at the Red Hill Branch. Staff is working diligently to resolve the problem.
Publish Date:
Tuesday, March 28, 2023 - 6:00pm
Barton Branch Makerspace
The iMac at the Barton Branch Makerspace is currently unavailable. We are working to resolve this issue. 
Publish Date:
Tuesday, March 28, 2023 - 2:00pm
Holds Processing and Delivery Delays
Holds processing and deliveries to Branches will be delayed for the next week due to Staff capacity.
We are working to move materials as quickly as possible. Thank you for your patience.
Publish Date:
Tuesday, March 21, 2023 - 1:45am
Carlisle Branch Construction Updates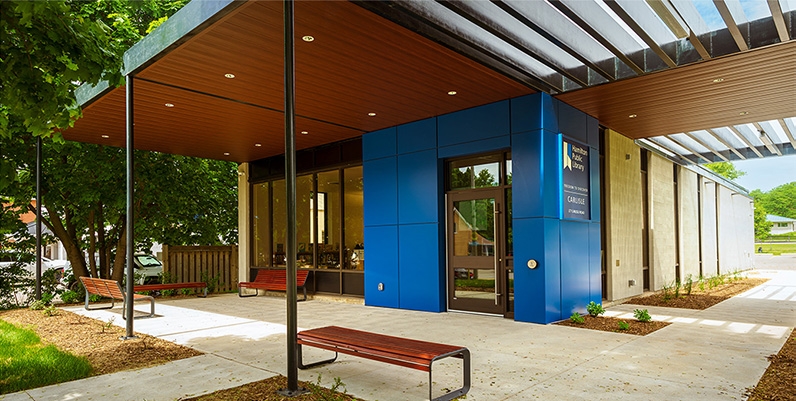 Update June 15, 2022:
Hamilton's Public Library's new Carlisle Branch at 277 Carlisle Rd., is now open. Come see the new features including a children's department alongside our wide range of library collections and services.
---
Update June 7, 2022:
Hamilton Public Library's new Carlisle Branch at 277 Carlisle Rd., is expected to open mid-June 2022. Please stay tuned to our website and social media channels for a reopening date.
---
Update August 2021:
Construction crews begins September 1 on converting the TD Canada Trust bank in Carlisle into a new branch for the Hamilton Public Library. The renovation at 277 Carlisle Rd., will replace the current branch at 1496 Centre Rd., which has operated there since 1989.
Beginning September 1, perimeter fencing erected around the site during construction prohibits use of the TD ATM and parking lot until the project is completed.
Branch construction: Begins Fall 2021
Design: To include an outdoor reading patio and TD ATM, Children's Area, Reading Lounge, Study Room, Barrier-Free Washroom, Public Access Computers, and Community Collections.
Preliminary budget: $1.75M
Completion: The relocated Carlisle branch is expected to open in Spring 2022.
"TD Bank Group's generosity made this donation possible. Together with the City of Hamilton, HPL will work over the next few months to prepare a concrete plan to make this project a success," says HPL's Board Chair Nick van Velzen. "After renovations, the residents of Carlisle will enjoy a vibrant community space that will serve for generations to come."
"We want to also thank Hamilton City Council and Councillor Judi Partridge for securing $1.75 million in capital funding to transform the building into a modern, accessible library," van Velzen added.
"As the City Councillor for the area, I am delighted to see the building will be used as the new Carlisle Library. Many Carlisle residents have worked with me over the past 10 years to bring a new library to Carlisle. When renovations are complete, the new library will make great use of the site and will serve the Carlisle community well into the future. The community is very grateful for the TD Bank and Hamilton Library staff who have worked with our team to make the new Carlisle Library site a reality," says Ward 15 Councillor Judi Partridge.