There is nothing to display at this time
Branch Closures - Friday, June 16
All HPL branches are closed Friday, June 16, for a Staff Professional Development Day. Bookmobile and Extended Access services are unavailable. Regular service hours resume Saturday, June 17. 
Publish Date:
Thursday, June 8, 2023 - 3:00pm
Turner Park Library - JAWS Accessible Computer
The JAWS computer at the Turner Park Library is currently out of order. Estimated time of disruption is unknown.  Thank you for your patience.
Publish Date:
Tuesday, June 6, 2023 - 10:00am
Saltfleet Branch Accessible Door Out of Order
There is currently no access to the accessible door at Saltfleet Branch. We're working to fix it and will post updates on hpl.ca. Thank you for your patience.
Publish Date:
Thursday, June 1, 2023 - 2:15pm
Mount Hope Branch Renovation Project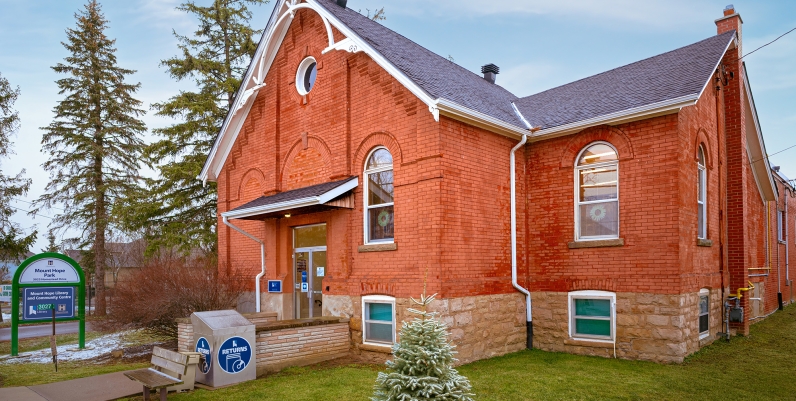 Update: April 2023
The Hamilton Public Library Board has agreed to take $1 million from its capital projects reserve fund to help pay for the renovation and an updated design of the Mount Hope Branch. The Branch relocated to its current location at the front of the Mount Hope Community Hall at 3027 Homestead Drive. In the proposed feasibility designs, the existing north entry vestibule and exterior ramp will be removed to allow for an increased total space of approximately 2,350 square feet, in comparison to the current 2,230 square feet. This extra space will allow for desirable amenities, including two separate Study areas, a larger Children's Department separate from the Adult and Teen area, more public computers, a centrally located Circulation Desk, a new universal washroom, and more shelving units.
There is an accessible elevator at the rear of the building where the parking lot is located, and there are accessible washrooms. The building, including the addition of the elevator, was renovated in 2017. 
Stay up-to-date with the latest renovation developments with The Hamilton Spectator articles:
Expansion of small Mount Hope library has residents mighty glad | TheSpec.com
Hamilton library board officials say cost for renovating Mount Hope branch is about $5.2 million