There is nothing to display at this time
Branch Closures - Friday, June 16
All HPL branches are closed Friday, June 16, for a Staff Professional Development Day. Bookmobile and Extended Access services are unavailable. Regular service hours resume Saturday, June 17. 
Publish Date:
Thursday, June 8, 2023 - 3:00pm
Turner Park Library - JAWS Accessible Computer
The JAWS computer at the Turner Park Library is currently out of order. Estimated time of disruption is unknown.  Thank you for your patience.
Publish Date:
Tuesday, June 6, 2023 - 10:00am
Saltfleet Branch Accessible Door Out of Order
There is currently no access to the accessible door at Saltfleet Branch. We're working to fix it and will post updates on hpl.ca. Thank you for your patience.
Publish Date:
Thursday, June 1, 2023 - 2:15pm
2022-23 Writers in Residence
Amanda Leduc and Kateryna Babkina are the 2022-23 Mabel Pugh Taylor Writers in Residence, in which established authors mentor creative writers from the Hamilton community.
 
About the Local Writer in Residence, Amanda Leduc
Amanda Leduc is a writer and author of the non-fiction book Disfigured: On Fairy Tales, Disability, And Making Space, which was shortlisted for the 2020 Governor General's Award in Non-Fiction and longlisted for the 2020 Barbellion Prize. She is also the author of the novel The Miracles Of Ordinary Men and The Centaur's Wife. Her essays and stories have appeared in publications across Canada, the U.S., the U.K., and Australia. She speaks regularly across North America on accessibility and the role of disability in storytelling. Amanda has cerebral palsy and lives in Hamilton, Ontario. The Mabel Pugh Taylor Writer in Residence program is led by McMaster University's Department of English and Cultural Studies in partnership with McMaster University Library and Hamilton Public Library. It is supported by the Taylor family.

About International Writer in eResidence, Kateryna Babkina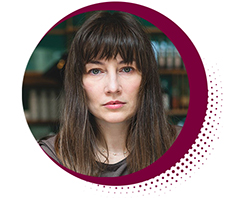 Kateryna Babkina is a Ukrainian poet, prose writer, columnist, screenwriter and playwright. She's the author of four poetry collections (Lights of Saint Elm; The Mustard, Painkillers and Sleeping Pills; Charmed for Love; Does Not Hurt), a novel (Sonia), and two collections of stories (Lilu After You; Happy Naked People). She has also written three books for kids (The Pumpkin Year; The Hat and the Whale; The Snowheat) and a fourth book (Girls Power) co-authored with Mark Livin. There are several short movies based on her stories. Babkina is currently living in London, England with her mother and daughter during the Russian invasion of Ukraine. The International Writer in e-Residence is supported by McMaster University's Office of the Provost, McMaster's Department of English and Cultural Studies, McMaster University Library, and Hamilton Public Library.
Amanda's Office Hours:
January to March, 2023: 
Mondays: Virtual by appointment
9am-5 pm
Fridays at Central Library
In-person by appointment
9am- 5pm
Email Amanda: englwir@mcmaster.ca to schedule an appointment.
Kateryna's residency has wrapped up. The Virtual Finale was held March 1, 2023.
Watch Amanda Leduc discuss her latest book, The Centaur's Wife, with author Gary Barwin: