There is nothing to display at this time
Scheduled Catalogue Maintenance - May 29
The catalogue may be unavailable on Sunday May 29 between 6-10am during the monthly maintenance window. We apologize for the inconvenience and thank you for your patience.
Publish Date:
Thursday, May 26, 2022 - 4:30pm
Rymal Road East Construction near Turner Park Branch
Starting Monday May 9, construction starts on Rymal Road East between Massena Drive and Republic Avenue near the Turner Park Branch. The lights will be deactivated and the turning lanes will be closed.
Please use eastbound lanes only to plan your branch visit.
Thank you for your patience.
Publish Date:
Thursday, May 26, 2022 - 9:30am
Carlisle Branch closing
The Carlisle Branch (1496 Centre Rd.,) closes Saturday May 28 at 5pm. The exterior drop box is available until June 1st. The new branch at 277 Carlisle Rd., is expected to open in mid-June 2022.
Publish Date:
Wednesday, May 25, 2022 - 1:15pm
Frank Augustyn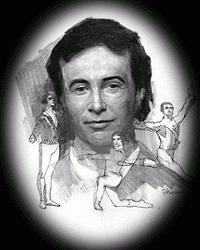 Frank Augustyn
Inducted: 2000
Frank Augustyn began training in acrobatics at the age of seven. At 19, he was a National Ballet star.
Augustyn, the son of a Hamilton, east-end steelworker, fell in love with dance after watching the National Ballet perform at the Palace Theatre on King Street East. He attended Toronto's prestigious National Ballet School and began his climb to a successful measure of international glory.
This great figure of the performing arts partnered up with another Hamilton-born star, Karen Kain. The two dancers had an intense charisma on stage that audiences adored. Both Augustyn and Kain used their National Ballet performances to springboard their dance careers.
Augustyn's professional experience is rich and extensive. He has been a guest teacher and choreographer at the following schools and institutes; Quinte School of Ballet, Unionville School of the Arts, Ryerson Polytechnic University, York University, Earl Haig School of the Arts, The Boston School of Ballet and the National Ballet School of Canada. He's also held the position of artistic director (1986 to present) for Le Gala Des Etoile -- a Montreal based gala organization presenting international stars in places like Japan, Athens, Jerusalem and Toronto.
This intense dancer's repertoire includes; Swan Lake, Giselle, Sleeping Beauty, Don Quixote and The Tin Soldier (for which he received a Gemini Award Nomination in 1993). And he's performed in Great Britain, Germany, Monaco and Switzerland -- the list is endless.
Footnotes: The Classics of Ballet was a 20 part series that Augustyn co-produced, co-wrote and hosted (the piece appeared on the BRAVO! Television Network from 1995 to 1997). Other television appearances include; La Fille Mal Garde (CBC), Giselle (CBC), The Karen Kain Special (CBC) and Robin Hood (CBC).
Frank Augustyn's awards include; Officer, Order of Canada (1979), Vanier Award (1979), and Winner Best Couple Award, Second International Ballet Competition, Moscow (1973) with Karen Kain.
Augustyn's passion for the ballet has always been the strength behind his great talent. His love of dance also explains the time and effort he's put into teaching (he's always been a role model for aspiring dancers) and helping others realize the beauty that lies within the art of dance. And perhaps realizing himself, that his intense and deep love for his craft, always wanting to be better and always wanting more, made him the best -- "What I would like to have is my youth extended...to dance and dance until I'm sick of it."