There is nothing to display at this time
Terryberry and Westdale Branches
Renovations at both the Terryberry and Westdale Branches are wrapping up. Both locations are expected to reopen in mid-July. Please stay tuned to our website and social media channels for updates. Thank you for your patience.
Publish Date:
Monday, June 27, 2022 - 10:30am
The Accessible Washroom at the Binbrook Branch is temporarily unavailable.
Please be advised that the Accessible Washroom in the Binbrook Branch is currently out of order. There is no estimate when the issue will be resolved at this time. We apologize for the inconvenience.
Publish Date:
Monday, June 27, 2022 - 8:45am
John Louis Agro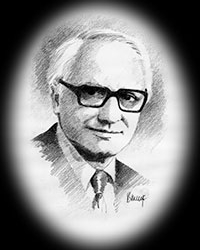 John Louis Agro
Inducted: 1989
John Agro was born in Hamilton. Upon his return to Canada after serving overseas, he entered Osgoode Hall to study law. In 1949 he was called to the bar and began practice as a criminal and litigation lawyer. In 1959 he became the first lawyer of Italian extraction named Queen's Counsel. In 1965 he was one of the founders of the Canadian Football League Players' Association. In 1976 John Agro was appointed Chairman of the Hamilton Harbour Commission. During his tenure the Commission has overseen $50 million worth of improvements to Hamilton's Harbourfront. In 1983 he was elected a bencher of the Law Society of Upper Canada and was Hamilton's Italian-Canadian Citizen of the Year in 1984. He died in 1998.