There is nothing to display at this time
Phishing Statement
Please be aware of online phishing attempts impersonating Hamilton Public Library and Library Staff. HPL does not solicit paid freelance opportunities through social media or other messaging applications. HPL does not request personal or banking information through social media or require financial compensation when reviewing job applications. Please report phishing schemes to communications@hpl.ca. If you think you are a victim of fraud, please call the Canadian Anti-Fraud Centre at 1-888-495-8501.
Publish Date:
Wednesday, March 29, 2023 - 8:00am
Wi-Fi Unavailable at Red Hill Branch
The Wi-Fi is not working at the Red Hill Branch. Staff is working diligently to resolve the problem.
Publish Date:
Tuesday, March 28, 2023 - 6:00pm
Barton Branch Makerspace
The iMac at the Barton Branch Makerspace is currently unavailable. We are working to resolve this issue. 
Publish Date:
Tuesday, March 28, 2023 - 2:00pm
Holds Processing and Delivery Delays
Holds processing and deliveries to Branches will be delayed for the next week due to Staff capacity.
We are working to move materials as quickly as possible. Thank you for your patience.
Publish Date:
Tuesday, March 21, 2023 - 1:45am
John Louis Agro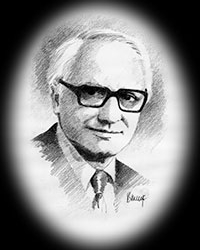 John Louis Agro (1918-1998)
Inducted: 1989
John Agro was born in Hamilton. Upon his return to Canada after serving overseas, he entered Osgoode Hall to study law. In 1949 he was called to the bar and began practice as a criminal and litigation lawyer. In 1959 he became the first lawyer of Italian extraction named Queen's Counsel. In 1965 he was one of the founders of the Canadian Football League Players' Association. In 1976 John Agro was appointed Chairman of the Hamilton Harbour Commission. During his tenure the Commission has overseen $50 million worth of improvements to Hamilton's Harbourfront. In 1983 he was elected a bencher of the Law Society of Upper Canada and was Hamilton's Italian-Canadian Citizen of the Year in 1984. He passed away on December 16, 1998, at the age of 80.