There is nothing to display at this time
Meet Our Researcher-in-Residence, Kaitlin Wynia Baluk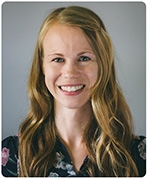 Describe your role as Researcher-in-Residence.
Over the years, McMaster and HPL have worked together on several research projects. As the researcher-in-residence, I hope to ease the workload, co-ordinate and support research endeavours. I am currently working on developing a toolkit that will help public libraries navigate research partnerships with universities, colleges, hospitals, and non-profit organizations. Likewise, I am planning to survey public library workers in Canada about their perspectives and experiences with research. I also hope to help academics better work with and produce research that benefits public libraries.  
Tell Us About You.
I am a social science researcher with an interest in public space. I recently graduated from McMaster with a PhD in Health and Society. My doctoral research looked at the relationship between public religious art and public dialogues on homelessness. I did a case study around Timothy Schmalz's sculpture, Homeless Jesus. I'm a big fan of public art, books, and hiking. During the pandemic, I also enjoyed learning about and experimenting with Zero-Waste cooking.
Best book you recently read.
We Have Always Been Here: A Queer Muslim Memoir by Samra Habib.
Best University Memory:
I loved getting to be a research assistant in the McMaster Department of Health, Aging and Society. In my third year of my Ph.D., I got a small grant to travel to Australia to do a project on how public libraries program for older adults.
Get Involved:
Contribute to community learning. Check below for Research Opportunities with our partners.
What projects are you working on right now?
Questions? Email Kaitlin at wyniak@mcmaster.ca.