There is nothing to display at this time
There is nothing to display at this time
William Blair Bruce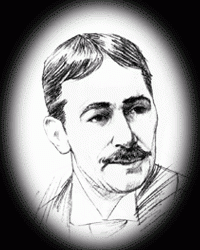 William Blair Bruce (1859-1906)
Inducted: 1993
Born in Hamilton on October 10th, 1859, William Blair Bruce was one of this city's finest painters.
As a young man, Bruce attended classes in law at the Hamilton Collegiate Institute and then joined his father's enterprise, the Hamilton Writing Institute, and worked there for several years as a mechanical draftsman.
His family knew he had talent and wanted him to succeed in his chosen career as an artist, and in the summer of 1881 Bruce set off to study in Europe. Bruce's aim as a student was to exhibit his works, especially in the Paris Salon, the Royal Academy in London or the Munich Academy. What Bruce wanted to exhibit was the colour and form "one sees in nature" for him, the only truth. Bruce believed his peculiar gift was the design of outdoor effects. In 1885 he wrote to his father, "How I would like to do honour to our Canada, the noble Dominion, to our ambitious little City, to the family."
Following his death at the age of 47, Bruce's family bestowed a substantial collection of his works to the City of Hamilton with the proviso that a permanent gallery be built. His Paintings which include The Long Cloud, Sunset in Clouds, The Rag Picker, Moonlight in Canada and The Phantom Hunter are all part of the permanent collection of the Art Gallery of Hamilton.
His paintings which had a significant influence on the establishment of the Art Gallery of Hamilton mark his induction into the Gallery of Distinction as a "Distinguished Hamiltonian".