There is nothing to display at this time
Scheduled Catalogue Maintenance - May 29
The catalogue may be unavailable on Sunday May 29 between 6-10am during the monthly maintenance window. We apologize for the inconvenience and thank you for your patience.
Publish Date:
Thursday, May 26, 2022 - 4:30pm
Rymal Road East Construction near Turner Park Branch
Starting Monday May 9, construction starts on Rymal Road East between Massena Drive and Republic Avenue near the Turner Park Branch. The lights will be deactivated and the turning lanes will be closed.
Please use eastbound lanes only to plan your branch visit.
Thank you for your patience.
Publish Date:
Thursday, May 26, 2022 - 9:30am
Carlisle Branch closing
The Carlisle Branch (1496 Centre Rd.,) closes Saturday May 28 at 5pm. The exterior drop box is available until June 1st. The new branch at 277 Carlisle Rd., is expected to open in mid-June 2022.
Publish Date:
Wednesday, May 25, 2022 - 1:15pm
Vitek Wincza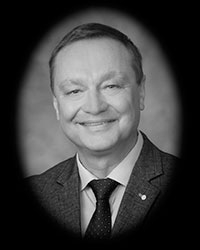 Wincza
Inducted: 2017
Vitek Wincza was a dancer in a travelling company when he chose to make Hamilton the place where he would defect from Poland's then-Communist rule. His decision to stay in Hamilton has brought life and spirit to a corner of downtown that had been dark and empty for nearly two decades and, more broadly, has brought meaningful artistic experiences to people from all over the city. Here, Wincza continues to live by his own motto: "To participate in the arts is a right, not a privilege."
Wincza bought the long-empty James Street South building that had once been home to the Hamilton Conservatory of Music, renovated it and re-opened it as the Hamilton Conservatory for the Arts in 1997. He continues to serve as artistic director of the HCA, which employs 60 professional arts instructors who deliver 120 programs to 1,000 students. Wincza is also founder and principal programmer at Culture for Kids in the Arts, a charitable organization he founded that brings the arts to thousands of children in Hamilton's priority neighbourhoods.
Wincza, a graduate of the State Ballet School in Gdansk, toured as a professional dancer with several companies. He decided to stay permanently in Canada after a series of performances at Hamilton Place. Here, he founded the Canadian Ballet Youth Ensemble, an ambitious project that pairs young dancers with professional musicians, dancers, composers and choreographers. Wincza created, choreographed and produced the full-length ballet, Hamilton Nutcracker, with the Hamilton Philharmonic Orchestra, 30 dancers from the Kiev Ballet Theatre and 90 local dancers. The production sold out Hamilton Place for eight years. The Polish government recognized Wincza's outstanding contribution to the arts in 1996.