There is nothing to display at this time
There is nothing to display at this time
Thomas Melville Bailey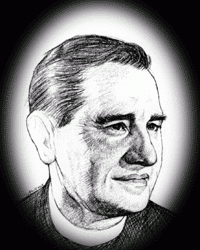 The Rev. Thomas Melville Bailey (1912-2005)
Inducted: 1994
Thomas Melville Bailey was born and educated in Hamilton.
As a young boy, Bailey had a staunch determination to follow in the footsteps of his four uncles, all of whom were ministers. While working for Canadian Pacific Express for 15 years he contemplated a career in journalism. But then in the fall of 1949 he quit his job and enrolled in Toronto's Knox College.
That same year T. Melville Bailey was appointed student minister of South Gate Presbyterian Church on Hamilton Mountain and in 1952 was ordained as a Presbyterian minister. Bailey's association with that congregation took him through retirement 31 years later.
Throughout his life, Reverend Bailey has always held a fascination and a passion for writing, particularly about local history.
By 1943 he had written, "History of Dundurn Castle and Sir Allan MacNab". A year after that book was published he helped found the Head-of-the-Lake Historical Society. In
1967, Reverend Bailey was appointed chairman of the historical research committee which played a key role in the restoration of Hamilton's Dundurn Castle.
Reverend T. Melville Bailey has written and co-authored over 20 books over the years including "The Laird of Dundurn", "The Surprise", "Highlights, Hamilton History" and "Up and Down Hamilton".
But Reverend Bailey's lifelong literary dream wasn't realized until 1981 when the first "Dictionary of Hamilton Biography" was published. Edited by Bailey, the dictionary is the only local biographical dictionary of its kind ever published in Canada. There are now three volumes of the dictionary and a fourth is in the works.
As honorary president of the Head-of-the-Lake Historical Society, Reverend Thomas Melville Bailey continues to document our past through his writing and will leave a rich heritage of service, community leadership and his literary works to generations of Hamiltonians.