Terry Edwin Yates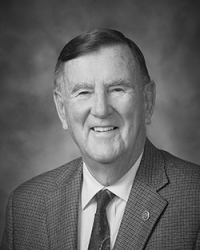 Terry Edwin Yates
Inducted: 2015
Terry and Brenda Yates moved to Hamilton in 1968 to found Queenston Chevrolet. Terry set to work in his quiet, unassuming way to make his new hometown a better place. He embraced Hamilton, growing a successful family enterprise of automotive dealerships and real estate holdings.
The city quickly learned that when needing a steady hand, strategic expertise and sound leadership, it could count on Terry. As chair of the Hamilton Community Foundation, he boldly encouraged ground-breaking activities that lead to remarkable growth from $10M in assets to over $150M today. At the Royal Botanical Gardens, Terry led the organization during a particularly challenging time, helping ensure this community jewel survived and remained on the right track.
In 1979, Terry was appointed an Honorary Lieutenant Colonel. His service to our community includes serving on the board of McMaster University, director of HMCS Haida, director and vice-chair of Canada Post, chair of Hamilton Convention Centre, governor of the Shaw Festival and many others. A recipient of the Queen's Diamond Jubilee Medal,  he is a man who lives and leads with great dignity, humility and grace. Terry Yates is a worthy inductee into Hamilton's Gallery of Distinction.