Sara Galbraith Calder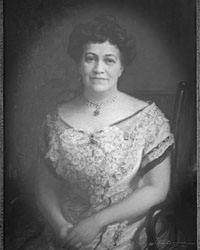 Sara Galbraith Calder (1846 - 1914)
Inducted: 2014
Perhaps Sara Calder's passion for Hamilton was influenced by her family. Born in 1846, Sara's grandparents were James Gage and Mary Davis, whose Stoney Creek homestead was site of the decisive 1813 battle rousting Americans from the Niagara peninsula.
With missionary-like zeal for Hamilton, Sara took interest  in Canada's emergence as a nation . In 1894 she founded the Hamilton branch of the Women's Art Association. She was vice-president of the Council of Women of Canada improving the lives of women and children. In 1899, as first president of the Women's Wentworth Historical Society, she led the purchase and preservation of the Gage homestead and helped open Battlefield Park to the public. Through her tireless leadership the Battlefield monument was raised in 1913 to honour those who fought in the Battle of Stoney Creek and to commemorate 100 years of peace between Canada and the United States.
On the 100th anniversary of her death, the Gallery welcomes a woman of public and patriotic spirit, a mother of 8 and a great visionary and woman of accomplishment, Sara Galbraith Beemer Calder.