There is nothing to display at this time
No Internet Access at Waterdown Branch
There is currently no internet access at Waterdown Branch. The estimated duration of this disruption is unknown. Thank you for your patience. 
Publish Date:
Tuesday, November 30, 2021 - 2:30pm
Sandra Bald Jones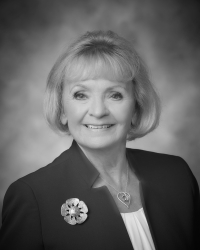 Sandra Bald Jones
Inducted: 2018
Thousands of dancers have found their feet with Sandra Bald Jones, an internationally distinguished performer, teacher and mentor in Highland Dance – a two-time world champion herself who has brought distinction to the city through her tireless work.  The Sandra Bald Jones Dance studio, opened in Hamilton 56 years ago, has produced many world champion Highland dancers. The Schiehallion Dancers, a high-performance dance group that Jones formed in 1968 continues to please audiences in Hamilton and abroad, in such diverse locations as France, South Africa, Macau, Hawaii and, of course Scotland.  Jones has choreographed impressive public performances, including the past 25 years of the Hamilton Tattoo and the Mirvish production of "Needfire" and she oversaw the Canadian Highland Dance Team that performed with teams representing other Commonwealth countries at the Edinburgh Military Tattoo in 2002.  Jones is one of the founders of ScotDance Canada, founder of the Scottish Dance Company of Canada, and creator, choreographer of the production "Immrama". Jones is also a sought-after evaluator of Highland dance performance, as a Member/Examiner of the Scottish Dance Teachers Alliance. In 2010, Jones's contribution to the field earned her the Atholl Clasp, a lifetime recognition presented by Highland dancing's world governing body, the Scottish Official Board of Highland Dancing. A native of Kirkcaldy, Scotland, Jones has made Hamilton, Ontario her home since 1962, and in so doing, has made the city a global hub for her art form.  Through a career studded with impressive achievements, Sandra Bald Jones has truly danced her way into Hamilton's Gallery of Distinction.