S. Patricia Filer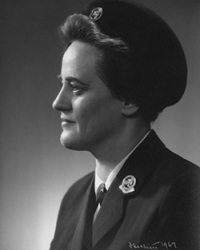 S. Patricia Filer
Inducted: 2015
Doing your best, being true to yourself and making the world better are all principles of the Girl Guides. They are also appropriate descriptions of Pat Filer.
A Hamiltonian for 58-years, Pat Filer committed her life to serving others. A 25-year association with The Girl Guides of Canada included serving as Hamilton Area District Commissioner and Deputy Chief Commissioner of Canada. During that time she revised the national Girl Guide program and oversaw the production of a new guiding handbook
In 1969 she was awarded the Guides' highest service award – The Beaver Medal.
Pat was a fiercely proud Hamiltonian using her writing and editing skills to serve her city. She was a writer/editor on the Dictionary of Hamilton Biography, authored Mohawk College's history and edited the autobiography of winemaker Andrew Peller. As past Chair of the Gallery of Distinction, her induction comes full circle joining husband Bill as an inductee.
Pat died in 2010. For her principled commitment to service and city, she is a distinguished addition Hamilton's Gallery of Distinction.