Russ Jackson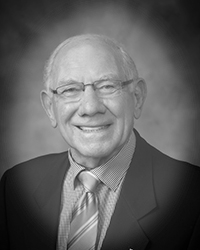 Russ Jackson
Inducted: 2016
The best Canadian ever to play quarterback, Hamilton-born Russ Jackson's stellar career on the field was equalled by a life of service to our children and community, well after the playing days were done.
As a student at Westdale Secondary School and McMaster, he was the record-setting quarterback, an exceptional basketball player and high achieving student. At Mac, he decided against participating in the Rhodes Scholarship process for a chance to turn pro with the Ottawa Rough Riders, who drafted him first in the 1958 CFL draft. In his 12 seasons in Ottawa, he led the team to three Grey Cups, was named an All-Star nine times and won handfuls of Outstanding Canadian and Most Valuable Player awards.
While playing, he also was a teacher, serving as head of mathematics at an Ottawa-area high school while fulfilling his obligations to the Rough Riders. When his athletic career ended, it was back to the classroom, serving as vice-principal and principal at high schools in Ottawa, Mississauga and Brampton. With his retirement from teaching, he returned to the Hamilton area, where he remains an active volunteer and citizen, inducted as an Officer in the Order of Canada, into Canada's Walk of Fame, awarded an honorary doctoral degree from McMaster and welcomed into the CFL, Canadian and Ontario Sports Halls of Fame.
For his unrivalled on-field accomplishments, his commitment to children, education and his community, Russ Jackson, a Canadian icon and humble Hamiltonian, is rightly welcomed into the Gallery of Distinction.