Roger Yachetti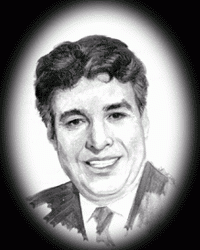 Roger Yachetti Q.C.
Inducted: 1997
Roger Yachetti received his law degree from the University of Western Ontario. When he graduated in 1964, he stood first in his class and was the recipient of the prestigious Arthur Little Gold Medal in law. He was called to the Bar in 1966 and was awarded the Treasurer's Medalist. Mr. Yachetti worked for a year as a law clerk for the Chief Justice of the High Court of Ontario before opening his own practice in Hamilton in 1967.
He has significantly contributed to this community by being active in numerous political, business and community organizations: Director of the Catholic Youth Organization for the Diocese of Hamilton, first President of the Law Clerk's Association and founding President of the Hamilton Criminal Lawyers' Association. In 1976, he was awarded the Outstanding Person Award by the Hamilton Jaycees. In 1994 he was named the Italian Canadian Citizen of the Year by the Hamilton chapter of The Order of the Sons of Italy. Also in 1994, he was named a Paul Harris Fellow by the Rotary Foundation of Rotary International. While a Law Society Delegate to the Federation of Law Societies of Canada, he chaired its National Committee on legal education for approximately two years. After serving sixteen years as an Elected Bencher of the Law Society of Upper Canada, Mr. Yachetti is now a Life Bencher. He has been the Elected Chair of the Law Foundation of Ontario since 1995.
Roger Yachetti was instrumental in the survival of the Hamilton Tiger-Cats in 1992. He spearheaded an effort by Ti-cats' staff to rebuild the team's profile and base of support. He was Chairman of the Board of Directors of the Hamilton Tiger-Cat Football Club and continues to sit on its advisory board. He was also a Governor of the Canadian Football League.
"I'm not the retiring kind", says Mr. Yachetti, I might change course or change phases, but to hang up a sign to say 'I'm retired' is not my style".