There is nothing to display at this time
No Internet Access at Waterdown Branch
There is currently no internet access at Waterdown Branch. The estimated duration of this disruption is unknown. Thank you for your patience. 
Publish Date:
Tuesday, November 30, 2021 - 2:30pm
Roberta Bondar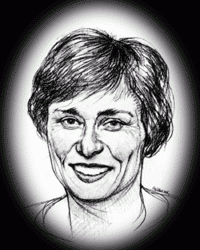 Dr. Roberta Bondar
Inducted: 1993
A native of Sault Ste. Marie, Roberta Bondar became Canada's first woman astronaut when she joined five other crew members on the United States space shuttle Discovery for a seven day mission into space in January of 1992.
As a child Roberta Bondar had aspirations to become an astronaut and developed a keen interest in the exciting challenges of space during her formative years.
Currently Visiting Distinguished Fellow, Department of Medicine, Faculty of Health Sciences, McMaster University, Dr. Bondar has an impressive background which qualified her to be selected as an astronaut on Discovery's 14th mission.
Dr. Bondar attended the University of Guelph where she received her Bachelor of Science in zoology and agriculture and following this she obtained a Master of Science in experimental pathology from the University of Western Ontario. She then went on to study neurobiology at the University of Toronto where she received her doctorate in 1974.
Admitted to McMaster University's School of Medicine in 1974 she received her M.D. degree in 1977. She joined McMaster's Faculty of Health Sciences in 1982 as assistant Professor of medicine. Roberta Bondar is a qualified pilot, a certified scuba diver and a parachutist.
Dr. Bondar has received many special honours among which are the Order of Canada, the Order of Ontario, the Vanier Award and NASA's Space Medal. She is an honorary life member of Zonta International.
A great Canadian, Dr. Roberta Bondar is welcomed to The Hamilton Gallery of Distinction as a "Distinguished Hamiltonian".