Robert and Margaret Carr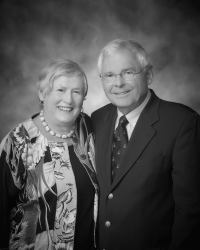 Robert and Margaret Carr
Inducted: 2018
The history and future of Hamilton have long been priorities of Robert and Margaret Carr, who have made the city a better place to live through volunteerism, advocacy and philanthropy. Margaret and Robert – known to many as Maggie and Bob – have enjoyed successful careers, she as a nurse and fundraiser, and he as an engineer.  Bob partnered in the founding of Gypsum Technologies which became an internationally competitive enterprise.
 
Their community work, spanning several decades, has emphasized health care, the arts, heritage and community life. Individually, Maggie was Director of Development for the Hamilton Philharmonic Orchestra and Opera Hamilton for 10 years, and is a driver of the revitalization of the Westdale Theatre, while Bob has devoted special attention to the Canadian Warplane Heritage Museum and the Royal Military College.
 
As a couple, they helped with the Out of the Cold Program at MacNab Presbyterian Church and served with the Kirkendall and North Hamilton community associations.  Bob and Maggie helped cofound the Kirkendall Community Association. Their efforts have emphasized parks, programs and resources for children, and they have been generous in their financial support, particularly for health care and the arts.
 
Formerly residents of the Kirkendall neighbourhood and now proudly ensconced in North Hamilton, the Carrs have always been deeply involved in their communities. Maggie has served on the boards of the Victorian Order of Nurses Foundation, the Art Gallery of Hamilton and the Incite Foundation for the Arts. Bob and Maggie are founding members of a citizens' group created to advocate for thoughtful, integrated development of the West Harbour lands (Barton-Tiffany) in the area of the CN rail yard. Their exemplary engagement and citizenship have improved life in Hamilton, earning them a rightful place in the Hamilton Gallery of Distinction.