There is nothing to display at this time
No Computers, Printers, Photocopiers or Internet at Barton Branch
Barton Branch opens at 1:00pm today, but there is no computer, printer, photocopier or internet access. We're working to fix it and will post updates on hpl.ca. Thank you for your patience.
Publish Date:
Thursday, September 23, 2021 - 11:45am
Raymond Gray Lewis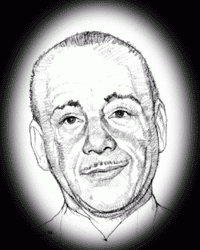 Raymond Gray Lewis (1910-2003)
Inducted: 1992
A native son, Raymond Gray Lewis was born in Hamilton on October 8, 1910. He began his illustrious track and field career at Central Collegiate where John Richard "Cap" Cornelius guided many of Hamilton's great track athletes. He still holds a Canadian High School track and field record four high school championships in one day in 1929 in the 100, 200, and 440-yard dashes and as anchor for the one-mile relay.
He briefly attended Marquette University in Milwaukee but returned to Canada during the great depression and joined the Canadian Pacific Railway as a porter. During his twenty-two year career, he made two hundred and fifty trips from Toronto to Vancouver, seeing something different every trip through the Rockies. Continuing his training, running back and forth beside the trains when stopped in the prairies, Ray Lewis prepared for international competitions.
In 1932 at the Olympic Games in Los Angeles, he won a bronze medal in the 1,600 relay. He ran the 440-yard race at the British Empire Games in London, England in 1934. He has contributed to track and field as an official since his retirement.
Active in the Masonic Order, he has been a member of the Mount Olive Number 1 Prince Hall and has received his 33rd degree (Prince Hall Affiliate). He has served as Past Grand Master Mount Olive Number 1, and as Deputy Eastern Canada Scottish Rite Prince Hall Masons.
A caring man, Ray Lewis has shared his talents generously in his church, within the Masonic Order and in his sport.