There is nothing to display at this time
Partner Library Borrowing
Access through OverDrive to Ottawa Public Library's catalogue is temporarily unavailable. We're working on fixing this as soon as we can.
Publish Date:
Friday, June 4, 2021 - 3:15pm
Peter Gordon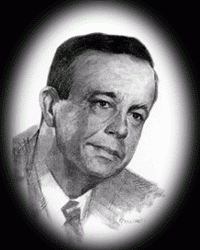 Peter Gordon
Inducted: 1998
Peter Gordon was raised and received his early education in Hamilton. He later attended the University of Toronto, graduating in 1943 with a Bachelor of Science degree. It was during his days as a university student that Mr. Gordon was first introduced to The Steel Company of Canada as a summer student.
During World War II, Mr. Gordon served with the Canadian Army in England and Europe, achieving the rank of Captain. Upon discharge in 1946, he, once again, joined The Steel Company of Canada Limited, this time as a utility man on the boiler shop floor. He credits his wartime experience as an invaluable training ground for the business responsibilities that would follow.
As he progressed through supervisory and executive positions in the company, Mr. Gordon's integrity, insights, and penchant for hard work earned him the respect of colleagues and competitors alike. In 1966, in preparation for future advancement, he attended an elite, advanced management program at Harvard University in the U.S.
Mr. Gordon was appointed President of The Steel Company of Canada Limited in 1971. At his retirement in 1985, he held the position of Chairman of Stelco Inc.
Included among honours received are Officer of the Order of Canada; Distinguished Life Membership Award - the American Society for Metals; the Benjamin F. Fairless Award -American Institute of Mining, Metallurgical & Petroleum Engineers; Human Relations Award Canadian Council of Christians and Jews; Management Achievement Award - McGill University Faculty of Management; to name just a few.
Other organizations served include: the Bank of Montreal, Bell Canada Enterprises Inc., Inco Limited, Sun Life Assurance Company of Canada Ltd., Wellesley Hospital, Ontario Press Council, Gulf Canada, and numerous others.
Mr. Gordon has served as Chairman of the Board of Governors of McMaster University, Vice Chairman of the Business Council on National Issues, and is currently a member of the Alumnae Board of Harvard University.
The Steel Industry has changed greatly during the 40-year span of Peter Gordon's highly successful career. Rest assured, this Hamilton native has had a major involvement in much of it.