There is nothing to display at this time
Accessible Washroom at Redhill not available
The accessible washroom at Redhill is not available. We apologize for the inconvenience.
Publish Date:
Thursday, March 16, 2023 - 12:00pm
Holds Processing and Delivery Delays
Holds processing and deliveries to Branches will be delayed for the next week due to Staff capacity.
We are working to move materials as quickly as possible. Thank you for your patience.
Publish Date:
Wednesday, March 15, 2023 - 1:45pm
Phishing Statement
Please be aware of online phishing attempts impersonating Hamilton Public Library and Library Staff. HPL does not solicit paid freelance opportunities through social media or other messaging applications. HPL does not request personal or banking information through social media or require financial compensation when reviewing job applications. Please report phishing schemes to communications@hpl.ca. If you think you are a victim of fraud, please call the Canadian Anti-Fraud Centre at 1-888-495-8501.
Publish Date:
Wednesday, March 15, 2023 - 8:00am
Norm Marshall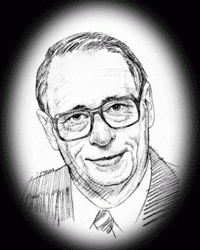 Norm Marshall (1918-2008)
Inducted: 1994
Norm Marshall is well respected and admired in the Hamilton community as a broadcaster. It is a talent he began to develop in his high school years. One of Norm's first jobs was with a home town newspaper as a part-time sports and editorial writer; a position that he held while he attended high school on a full-time basis. Before long, he moved into broadcasting as a singer on a regular program with CKTB in St. Catharines and later became an announcer for the same station.
In 1940, he was "discovered" and recruited to Hamilton to work for CHML. He has worked at CJAD Montreal, CKLW Windsor-Detroit and WKBW Buffalo. In 1967, Norm was appointed Operations Manager of Hamilton's CHAM radio and later elevated to the position of General Manager. In addition to his extensive work in radio, Norm became a television celebrity soon after breaking into this "new" medium in 1952. He joined CHCH TV 11 in 1954 as a news and sports commentator - an association that he maintained until 1988.
At present, he is President of Norm Marshall Associates which is a Public Relations and Promotion organization which works in association with OK&D Advertising of Hamilton.
During his career, Norm Marshall has brought much innovation to the broadcasting world. He was the first sportscaster to give a fully reconstructed dramatization of an NHL hockey game using teletyped reports from an out of town arena. He was the first ever telecaster of the CFL's "Grey Cup". He was not only a regular fan and broadcaster of Canadian university sports but he was the first sportscaster outside Toronto to receive the Fred Sgambati Award for outstanding contribution to young athletics in 1985.
Norm has shared his broadcasting expertise with the Media Studies students of Mohawk College from 1975-1987. Norm Marshall has shared with the Hamilton community his love of journalism, his passion for sports and his distinctive voice. He truly is a remarkable man quoted once as being able to "breathe life into a game of marbles".