Nevin Grant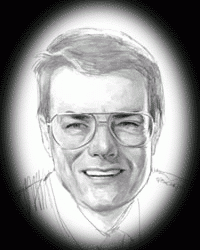 Nevin Grant
Inducted: 2002
A leader in Hamilton's radio broadcast community for over three decades, Nevin is an accomplished musician who has worked tirelessly to promote both local and Canadian talent.
Program director of OLDIES 1150 CKOC and 820 CHAM, and music director of CKOC since 1968, Nevin is recognized as one of the top music programmers in Canada. Throughout his career, he has acted as mentor to many young people who have their sights set on broadcasting. He continues to contribute to the training of aspiring broadcasters through his role as chairman of the Program Advisory Committee for Radio Broadcasting at Mohawk College.
Nevin is a long-standing member of the East Hamilton Optimists Club. He has been a member of many community boards including the Hamilton Philharmonic Orchestra, Participation House and Mardi Gras Hamilton. He is a member of the Golden Horseshoe Athlete of the Year Committee and the ACE Awards Committee. In 1972, he was one of the founders of "The Christmas Miracle" toy drive. In 1986 the Central Canada Broadcasters Association presented him with the Howard Caine Memorial Award for outstanding community service. He received an Award of Merit from the Mohawk College Board of Governors in 1989.
A graduate in Radio and Television Arts from Ryerson Polytechnical Institute, Nevin is known as for his encyclopedic knowledge of the music of the fifties, sixties and seventies. A lifelong piano player, he has performed as both a classical and dance band pianist and as a rock musician.