There is nothing to display at this time
Central Library Jackson Square Entrance and Book Drop
Central Library's Jackson Square door and drop box reopen February 1.
Publish Date:
Wednesday, January 26, 2022 - 3:15pm
Melville Marks "Bobby" Robinson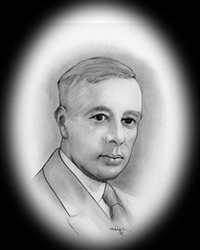 Melville Marks Robinson (1889-1974)
Inducted: 1987
Renowned throughout Canada for aggressive championship of farmers' causes, Bobby Robinson is remembered in Hamilton for founding the British Empire Games, first held in Hamilton in 1930. In 1920, elected to the Hamilton Board of Education, he helped promote the city as a leading centre for track and field in Canada. A sports editor for the Hamilton Spectator from 1908 to 1931, Robinson conceived the idea of track and field competition involving athlete from nations in the British Empire. Robinson was appointed to the Burlington High School Board in 1940, serving as Chairman from 1953-to 1963. At his retirement the town named a new school the M.M. "Bobby" Robinson High School. He played an active role in the creation of the Canadian Legion and the Hamilton Olympic Club. M.M. "Bobby" Robinson, as Secretary-Treasurer of the Ontario Fruit and Vegetable Growers' Association, devoted energy to strengthening the position of farmers in an increasingly competitive economy.