There is nothing to display at this time
No Computers, Printers, Photocopiers or Internet at Barton Branch
Barton Branch opens at 1:00pm today, but there is no computer, printer, photocopier or internet access. We're working to fix it and will post updates on hpl.ca. Thank you for your patience.
Publish Date:
Thursday, September 23, 2021 - 11:45am
Leslie Laking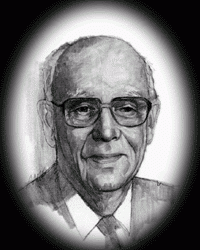 Dr. Leslie Laking (1916-2011)
Inducted: 1998
Leslie Laking was born in Freelton, Ontario and received his secondary education at the Hamilton Central Collegiate Institute. He is also a graduate of the University of Guelph, holding a B.S.A. - Ornamental Horticulture degree. Graduate studies in Botany at the University of Toronto were interrupted after two years, by the outbreak of World War II.
From 1943-45, Dr. Laking served with the R.C.A.F. as a Meteorologist in the Commonwealth Air Training Scheme. Upon discharge, he worked as a Soils Specialist with the Province of Ontario's Thames and Humber Valley Conservation Surveys. He joined the staff of the Royal Botanical Gardens in 1946, rising to its Directorship in 1954. In 1996, he was appointed Director Emeritus of the RBG.
Through his program introductions, learned writings, radio and television broadcasting, and a 30-year university teaching career at both McMaster University and the University of Toronto, he has encouraged sustained relationships with leading horticultural organizations, and effectively promoted the RBG as a resource and service centre for provincial universities and colleges.
Honours awarded include: Doctor of Laws - University of Guelph and McMaster University; the Order of Canada (C.M.); Canada Commemorative Medal; the Lawson Medal - the Canadian Botanical Association; Garden Writer's Award - Landscape Ontario; Award of Merit - American Association of Botanical Gardens and Arboreta; Silver Medal - Ontario Horticultural Association; and the Distinguished Agrologist Award - Ontario Institute of Agrologists, to name only a very few.
Continuing memberships and affiliations include: the Canadian Botanical Association, the Canadian Iris Society, the Ontario Institute of Agrologists, the Bruce Trail Association, the Canadian Rose Society, the Garden Writers
Association of America, the Burlington Horticultural Society, the Federation of Ontario Naturalists, the American Association of Botanical Gardens and Arboreta, and the University of Guelph Senate.
During his tenure, Dr. Laking guided the development of the RBG, both physically and institutionally. In so doing, he has also served as a quiet inspiration to countless thousands who have marvelled at the beauty created under the direction of his expert and caring leadership.