Lawrence (Larry) Sefton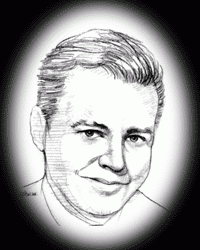 Lawrence Sefton (1917-1973)
Inducted: 1992
Born in Iroquois Falls, Ontario in 1917, Larry Sefton's long and distinguished career in the labour movement began when, as a boy of sixteen he worked in the gold mine at Kirkland Lake. He spent thirty-one years as a staff member of the United Steelworkers of America (USWA), including his tenure as a Director of District 6.
District 6 of the USWA membership grew from 36,000 in 1953 to 130,000 members twenty years later much of which was due to amalgamation with other unions brokered by Larry Sefton. In Hamilton, he was the organizer and then the strike leader in the historic recognition struggle of 1946.
Mr. Sefton an active C.C.F. Party worker from 1942, helped persuade unions to affiliate with the New Democratic Party in 1961.