John M. Gibson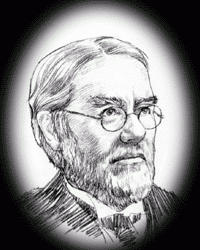 Sir John M. Gibson (1842-1929)
Inducted: 1994
Born on New Year's Day in 1842, the son of a Scottish immigrant. His father died when John Gibson was only three years old. Following his father's death, his family moved to a farm in Caledonia where his older brothers and sisters worked the land while he attended the local school. In 1959, he entered the University of Toronto and won the Prince of Wales prize as the most distinguished graduate of 1863. He received his MA in 1864, was called to the bar in 1867 and graduated with a bachelor of law degree and gold medal for outstanding grades in 1869.
Sir John Gibson conducted a well respected legal practice in Hamilton for over sixty years. He was one of the founding members of the Hamilton Law Association - a group that formed to ensure local area lawyers had access to their own law library.
Sir John Gibson was active in the business community as well. He was instrumental in bringing hydroelectric power to Hamilton with the formation of the Dominion Power and Transmission Company which in 1896 built the first head hydroelectric plant in Canada. He was a founding member of the Wentworth Historical Board.
Elected to the provincial legislature to represent West Hamilton in 1879 as a member of the Liberal Party. Perhaps his best-known act as a politician was the Gibson Act for the prevention of cruelty to children, passed in 1893.
Appointed Attorney General of Ontario in 1899. He was appointed Lieutenant Governor of Ontario in 1908. It was an honour that he held until 1914. He was President of the Canadian Red Cross from its inception in 1896 throughout the Boer War, for a total of fourteen years. For these services, he was created a knight of the Order of St. John of Jerusalem in 1914.
He died in 1929 having outlived his three wives. Sir John Gibson has been described as a "gentlemen of many-sided character" who made the citizens of Hamilton proud by his multiple accomplishments as a politician, lawyer, businessman and a community-minded citizen.