There is nothing to display at this time
There is nothing to display at this time
John F. Bonomi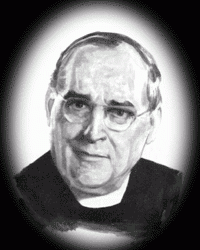 Father John F. Bonomi (1882-1958)
Inducted: 1996
Father John Bonomi was born in Italy in 1882, and died there in 1958. He was educated until he was 12, then went to work. At age 14, he decided he would enter the priesthood, as the result of talks with an African missionary. He returned to school and completed his university training. An honour student, he completed two years' theological study within two months' time, studying languages, science, philosophy, psychology and the arts. Because of this multi-disciplinary education, Monsignor Bonomi was sometimes accused of being "ultra modernistic" in his views.
Too young to receive holy orders, he was granted a special dispensation by His Holiness, Pope Pius X in Rome. He was ordained in 1905. Three months after his ordination, he was appointed curate at a church in Boston, where he spent three years in an area which included 36,000 Italian families.
He began his ministry in Hamilton in 1908 at St. Mary's Church with 40 Italian families. Hamilton's first Italian church, St. Anthony's, was built through Father Bonomi's efforts and the co-operation of the Italian people. He taught his countrymen to become Canadian in their outlook and encouraged them to higher education, which resulted in many later successes. He served as an interpreter, teacher, friend and counsellor in the industrial end of Hamilton.
Father Bonomi deplored materialism. Philosophically, he was deeply concerned about the tragedy of man. Life, he said, seemed too commercial, people were working for materialistic gain and there seemed to be no heed paid to culture.
In 1923, it was found that the increase in the Italian population necessitated the building of a second Italian parish, All Souls' Church.
Father Bonomi retired in 1953 after his 45 years of ministry to return to Italy to write. When he left the city, his pastorate had extended from the hundreds into the thousands, through three churches, and covered, in many cases three generations.
He died in Italy at the age of 76.