There is nothing to display at this time
Accessible Washroom at Redhill not available
The accessible washroom at Redhill is not available. We apologize for the inconvenience.
Publish Date:
Thursday, March 16, 2023 - 12:00pm
Holds Processing and Delivery Delays
Holds processing and deliveries to Branches will be delayed for the next week due to Staff capacity.
We are working to move materials as quickly as possible. Thank you for your patience.
Publish Date:
Wednesday, March 15, 2023 - 1:45pm
Phishing Statement
Please be aware of online phishing attempts impersonating Hamilton Public Library and Library Staff. HPL does not solicit paid freelance opportunities through social media or other messaging applications. HPL does not request personal or banking information through social media or require financial compensation when reviewing job applications. Please report phishing schemes to communications@hpl.ca. If you think you are a victim of fraud, please call the Canadian Anti-Fraud Centre at 1-888-495-8501.
Publish Date:
Wednesday, March 15, 2023 - 8:00am
John D. (Jack) McNie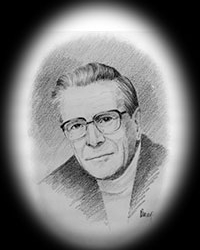 John D. (Jack) McNie
Inducted: 1988
Born in Toronto, Jack McNie came to Hamilton in 1946 following RCAF service to join the advertising firm of Russell T. Kelley Limited. He became president in 1956, retiring in 1971 on his election as a Progressive Conservative member of the Ontario Legislature for Hamilton-West, subsequently being appointed Minister of Colleges and Universities. His belief in the power of the informed, motivated citizens was reflected in the creation of the first co-operative nursery in Hamilton and his chairmanship of the steering committee of the Hamilton theatre auditorium project which led to the opening of Hamilton Place in 1973, and paved the way for the Hamilton Convention Centre. He also served as chairman of the International Council for Adult Education management committee.