There is nothing to display at this time
No Internet Access at Waterdown Branch
There is currently no internet access at Waterdown Branch. The estimated duration of this disruption is unknown. Thank you for your patience. 
Publish Date:
Tuesday, November 30, 2021 - 2:30pm
John Charles Bothwell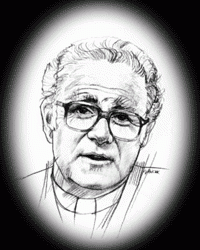 The Most Rev. John C. Bothwell (1926-2014)
Inducted: 1993
Born in West Toronto in 1926, John Bothwell has had a most distinguished career in the Anglican Church and in a number of key community organizations in which he gave outstanding volunteer leadership.
Archbishop Bothwell studied at the University of Toronto where he obtained a B.A. in 1948 followed by a Licentiate in Theology and a Bachelor of Divinity from Trinity College. He was ordained an Anglican deacon and priest and served in parishes in Toronto, Vancouver, Oakville and Dundas.
He was appointed Canon of Christ's Church Cathedral, Hamilton in 1963. He served as National Executive Director of Program and was then elected Co-adjuror Bishop of Niagara Diocese and then Diocesan Bishop of Niagara in 1973. John was elected Archbishop of the Province of Ontario in 1985 and served until his retirement in 1991.
While he may be best known for his prominent role in the church, Archbishop Bothwell also made a substantial mark in the community through his high profile involvements in volunteer organizations. He served as chairman of the Hamilton Volunteer Bureau; co-chairman, Community Information Service; president, Social Planning and Research Council; president, United Way; chairman, The Hamilton Foundation; board member, St. Matthews House; advisory board, YWCA; and board member, Ontario Council on Social Development.
Archbishop Bothwell travelled extensively in Britain, Africa, Latin America and the Caribbean. He has authored three books on the church and its role in society. He is currently Chancellor of Trinity College, University of Toronto. We welcome Archbishop John C. Bothwell to The Hamilton Gallery of Distinction as a "Distinguished Hamiltonian."