There is nothing to display at this time
John Alexander (Jack) MacDonald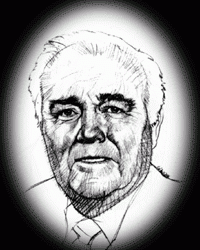 Jack MacDonald (1927-2010)
Inducted: 1993
Born in London, Ontario in 1927, Jack and his family moved to Hamilton in 1942. A year later he joined the Royal Canadian Navy at the age of 16.
Jack MacDonald's political career began in 1950 when he was elected Alderman, the youngest ever, at age 22. He was elected Controller in 1953 and served in this capacity during various terms through to 1970. In 1977 Jack was elected Mayor of the City of Hamilton and held the chief magistrate post to 1980.
In addition to his great contribution to the City through his political career, Jack MacDonald has demonstrated outstanding volunteer community service by his leadership in a number of local organizations.
Jack has been a pillar of strength in the Kiwanis Club of Hamilton East, serving as its president. He was president of the Boys and Girls Club and a founding member of the board of Kiwanis Non-profit Homes Corporation.
Jack chaired the capital campaign to rebuild the Downtown Branch of the YMCA of Hamilton/Burlington and currently sits on the YMCA Board of Governors. He was honoured as Hamilton's Distinguished Citizen of the Year in 1973 and was recognized as the Outstanding Kiwanian in Eastern Canada and the Caribbean in 1983.
Mr. MacDonald was chairman of the United Way Campaign, a founding
director of Wayside House, chairman of the Grey Cup Festival and a
member of the National Parole Board. Currently Jack is a columnist with the Hamilton Spectator. We welcome Jack MacDonald to The Gallery of Distinction as a "Builder of Hamilton."