There is nothing to display at this time
Accessible Washroom at Redhill not available
The accessible washroom at Redhill is not available. We apologize for the inconvenience.
Publish Date:
Thursday, March 16, 2023 - 12:00pm
Holds Processing and Delivery Delays
Holds processing and deliveries to Branches will be delayed for the next week due to Staff capacity.
We are working to move materials as quickly as possible. Thank you for your patience.
Publish Date:
Wednesday, March 15, 2023 - 1:45pm
Phishing Statement
Please be aware of online phishing attempts impersonating Hamilton Public Library and Library Staff. HPL does not solicit paid freelance opportunities through social media or other messaging applications. HPL does not request personal or banking information through social media or require financial compensation when reviewing job applications. Please report phishing schemes to communications@hpl.ca. If you think you are a victim of fraud, please call the Canadian Anti-Fraud Centre at 1-888-495-8501.
Publish Date:
Wednesday, March 15, 2023 - 8:00am
James Fraser Mustard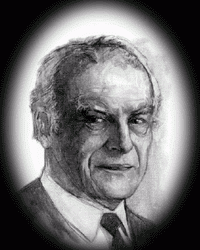 Dr. James Fraser Mustard (1927-2011)
Inducted: 1998
James Fraser Mustard was born, raised, and educated in Toronto, and studied medicine at the University of Toronto, receiving his M.D. in 1953. In addition to earning numerous scholastic awards, he was an all-star tackle on the Varsity Football Team, where his explosive style prompted his teammates to dub him "Moose".
In 1956, while earning his Ph.D. at Cambridge University, he began his investigation of blood disorders. He continued his work in Canada, and was the first to draw a connection between A.S.A. and the effect it has on heart attack and stroke patients.
In 1966, Dr. Mustard was appointed Chairman of the Department of Pathology at McMaster University.
Here he was a major influence on the breakthrough design of McMaster's Health Sciences Facility and on the undergraduate medical education program, which has become a model of international acclaim.
In 1972, he was appointed Dean and Vice-President of the Faculty of Health Sciences of McMaster University, and a Member of the Board of Governors of McMaster University Medical Centre. During his 10-year tenure, he continued to pursue his research, adding to his more than 400 articles published in leading scientific journals and periodicals.
In 1982, he helped found and became the first President of the Canadian Institute for Advanced Research, an organization committed to harnessing the brainpower of some of the country's leading scientists and scholars.
Organizations served by Dr. Mustard include: multiple Directorship and Advisory Board appointments with the Government of Canada and the Governments of Ontario, British Columbia, and Manitoba; and multiple lectureships and visiting professorships with leading universities and hospitals throughout the world.
Dr. Mustard's many awards include: The Heart & Stroke Foundation of Canada Award of Merit; Companion, Order of Canada; Officer, Order of Canada; Fellow of the Royal Society of Canada; Royal Bank Award; Member, Order of Ontario; International Society of Thrombosis and Haemostasis Distinguished Career Award; The Canadian High Technology Person of the Year Award; and many others.
Through his dedication, remarkable skills, and creative mind, Dr. Mustard has contributed greatly to the world of medical science, and to the lives of all of us who have or will benefit from his work.