There is nothing to display at this time
Accessible Washroom at Redhill not available
The accessible washroom at Redhill is not available. We apologize for the inconvenience.
Publish Date:
Thursday, March 16, 2023 - 12:00pm
Holds Processing and Delivery Delays
Holds processing and deliveries to Branches will be delayed for the next week due to Staff capacity.
We are working to move materials as quickly as possible. Thank you for your patience.
Publish Date:
Wednesday, March 15, 2023 - 1:45pm
Phishing Statement
Please be aware of online phishing attempts impersonating Hamilton Public Library and Library Staff. HPL does not solicit paid freelance opportunities through social media or other messaging applications. HPL does not request personal or banking information through social media or require financial compensation when reviewing job applications. Please report phishing schemes to communications@hpl.ca. If you think you are a victim of fraud, please call the Canadian Anti-Fraud Centre at 1-888-495-8501.
Publish Date:
Wednesday, March 15, 2023 - 8:00am
Gwen Metcalfe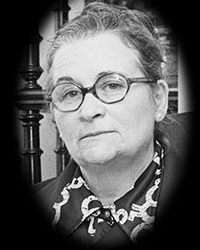 metcalfe
Inducted: 2017
Today, Dundurn Castle is a National Historic Site and a popular tourist destination, authentically restored as the home of lawyer, politician and businessman Sir Allan MacNab. All those distinctions are attributable to one person: Gwen Metcalfe, who saw the potential in a run-down museum that had come to be known as "Hamilton's largest attic and refrigerator."
Metcalfe, who had started at the castle as a summer receptionist in 1954, quickly rose to the rank of curator and made it her life's mission to bring out the potential she saw in the 18,000-square-foot mansion. After MacNab had died penniless, Dundurn passed into private hands before the City of Hamilton bought it and made it into a museum featuring a hodgepodge of collections, a zoo in the back and a fire engine in the front hall. Metcalfe's devotion to restoring the MacNab family home to its look in 1855 – the zenith of MacNab's career, when he was Premier of the United Canadas – was so complete that some called her "Lady MacNab." 
Metcalfe, a mother of one, educated herself in conservation and museum leadership. Tourist traffic increased substantially under her leadership, and she successfully lobbied to have Dundurn Castle named as Hamilton's Centennial project. The Castle closed for four years of renovations, re-opening in 1967 to great fanfare with marching bands, a visit from the Premier of Ontario and a line-up of 3,000 people waiting to get inside. In 1972, the year after Metcalfe reluctantly retired, Hamilton's Mayor Vic Copps declared her a "citizen of distinction." She died in 1997.