There is nothing to display at this time
There is nothing to display at this time
Gordon Price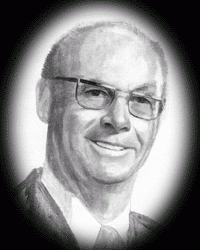 Dr. Gordon Price
Inducted: 2001
An innovative leader who oversaw the "baby boom" era growth of Hamilton's public school system, Dr. Gordon Price left an indelible mark on the city's educational history.
Gordon Price served a total of 38 years in the public school system, with the majority of them in Hamilton - as a teacher, principal, superintendent and finally, director of the public school board for 14 years until his retirement in 1975.
In Hamilton's educational system, Gordon Price was on his home turf as a graduate of Allenby Public School, Hamilton Collegiate and McMaster University. He was an outstanding athlete and quarterbacked the football team at both high school and university, winning the McMaster Carr Trophy as the best all round student athlete in 1930. Beginning in 1939, he coached McMaster's football team for five seasons, losing only two games.
Gordon Price began his teaching career in 1937 at the High School of Commerce, later known as the Hamilton Collegiate Institute. By 1945, at the age of 34, he was principal at the Collegiate - the city's youngest-ever principal at that time - and later served as principal at St. Catharines Collegiate before becoming superintendent of Hamilton's secondary schools in 1954.
When he became director of education in 1961, the school system was expanding at a dizzying speed. Portable classrooms were springing up across the city and some secondary schools taught students on shifts. A Hamilton Spectator article on his retirement in 1975, noted that "Hamilton was fortunate to have the firm and flexible Dr. Price at the helm" during this tumultuous time.
Gordon Price was also a community leader in countless other ways: he served on the boards of the YMCA, Big Brothers and the Hamilton Philharmonic, he was active in Rotary, and contributed leadership to many educational and sports associations.
An elementary school on Hamilton's west mountain is named after Dr. Gordon Price.