There is nothing to display at this time
There is nothing to display at this time
Gordon Bullock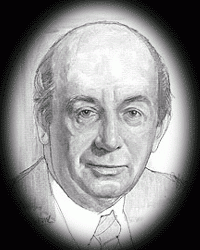 Gordon Bullock
Inducted: 2000
Gordon Bullock was born in Leeds, England in 1932. Before emigrating to Canada in 1954, Mr. Bullock worked as a reporter for the Yorkshire Evening News. Once in Canada he continued his work as a reporter for the Hamilton Daily News. The local newspaper lasted for more than one year before closing, so Mr. Bullock joined the Hamilton Spectator.
At the Spectator, Gordon Bullock worked as a reporter, city editor, news editor, managing editor and executive editor before being appointed business manager in 1975. A year later he was promoted to general manager. In 1978, Mr. Bullock became the assistant publisher of the Edmonton Journal in Alberta. In 1979, he became publisher of the Windsor Star in Ontario and returned to the Spectator as publisher in 1984. He retired as publisher-emeritus in 1994.
Mr. Bullock's community work is extensive. He became the first president of the Hamilton Press Club, of which he helped revive. He served on; Hamilton's special events committee, the city's Centennial committee, the board of the Hamilton Philharmonic Orchestra, the Hamilton YMCA board, the Hamilton Social Planning Council and was a charter member of the Royal Hamilton Yacht Club. From 1989 to 1996, Mr. Bullock was a member of the board of governors of McMaster University and a board representative on the Senate of the university.
During his time as editor of the Hamilton Spectator, he served as a member of the first Ontario Press Council, of which he was one of the original directors. In 1966, he was honoured with "Man of the Year" from the Hamilton council, Knights of Columbus.
Mr. Bullock's drive to give back to his community saw him as being one of a handful of people who came forward to help save the Hamilton Tiger-Cats from extinction. As a board member for three years he helped sell the community team to private owners, strengthening the teams' financial standing. Gordon Bullock also worked with Sam Taylor to revive the Hamilton Philharmonic Orchestra.
Gordon Bullock's contributions to the city of Hamilton have always had the city's best interests at heart. Mr. Bullock's loyalty and dedication to the community is his strength and at the same time, Hamilton's strength.