There is nothing to display at this time
There is nothing to display at this time
Frank Shirley Panabaker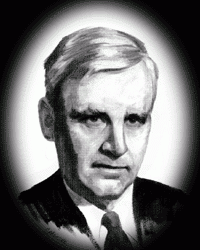 Frank Shirley Panabaker (1904-1992)
Inducted: 1996
Frank Panabaker, an artist closely associated with Hamilton during his lengthy career, also enjoyed a considerable international reputation for his paintings of the Canadian landscape.
Frank Panabaker was a member of the Allied Artists of America, one of a handful of Canadians ever to be elected to the group, an associate member of the Royal Canadian Academy, and a member of the board of trustees for the National Gallery in Ottawa for six years.
His artistic career was launched one summer when the artist McGillivray Knowles arrived in town to teach a sketching class. Frank's father, impressed by his son's early interest and talent in drawing, suggested that the 16 year-old might like to join the class, rather than push heavy carts through the steaming woolen mill.
Born in Hespeler (now Cambridge), he made his home in the Hamilton area for most of his life. He attended the Ontario College of Art in Toronto and continued his studies at the Grand Central School of Art in New York.
Frank Panabaker had his first show at the Preston Springs Hotel in 1927. From that time, he was a fully self-supporting professional artist. With his wife Katherine's support and able assistance, more exhibitions followed across southern Ontario. Several wealthy sponsors provided a steady, albeit small income in exchange for paintings which carried the young couple through the difficult depression years.
He spent his time trekking through the lanes in Southern Ontario, on the shores of Georgian Bay, in the hills and lakes of Haliburton, Muskoka and Algonquin Park. He also painted Nova Scotia, British Columbia, Alberta, Vermont and even Nassau.
Much of his subject matter was local scenes in and around Ancaster, the Dundas valley and marsh, and of course, Hamilton. From the royal yacht Brittania in Hamilton Harbour, to the Hamilton Farmers' Market, the Tiger Cats and Gore Park, Frank Panabaker documented the life and times of the Steel City from the 1940's to through to the 1990's.
He painted up until the last week of his life, dying in his 88th year in 1992.