There is nothing to display at this time
Scheduled Catalogue Maintenance - May 29
The catalogue may be unavailable on Sunday May 29 between 6-10am during the monthly maintenance window. We apologize for the inconvenience and thank you for your patience.
Publish Date:
Thursday, May 26, 2022 - 4:30pm
Rymal Road East Construction near Turner Park Branch
Starting Monday May 9, construction starts on Rymal Road East between Massena Drive and Republic Avenue near the Turner Park Branch. The lights will be deactivated and the turning lanes will be closed.
Please use eastbound lanes only to plan your branch visit.
Thank you for your patience.
Publish Date:
Thursday, May 26, 2022 - 9:30am
Carlisle Branch closing
The Carlisle Branch (1496 Centre Rd.,) closes Saturday May 28 at 5pm. The exterior drop box is available until June 1st. The new branch at 277 Carlisle Rd., is expected to open in mid-June 2022.
Publish Date:
Wednesday, May 25, 2022 - 1:15pm
Elizabeth Bradford Holbrook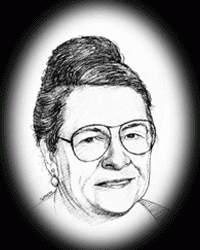 Elizabeth Bradford Holbrook (1913-2009)
Inducted: 1994
Elizabeth Bradford Holbrook was born and educated in Hamilton. Her aptitude and interest in art developed early but it was not until 1929 that she began her formal training to develop her talents when she attended Central Collegiate and Hamilton Technical School Art Department. She went on to attend the Ontario College of Art from 1932-1935 where she specialized in sculpture under Emanuel Hahn and graduated winning the Lieutenant Governor's Medal for Sculpture. This training was followed by a year at the Royal College of Art in London England.
Today, Elizabeth Bradford Holbrook is recognized as a gifted sculptor whose art has been commissioned and displayed by admirers around the world. Works include the busts of Prime Minister John Diefenbaker and Hon. Ellen Fairclough commissioned for the Parliament Buildings and numerous medals of honour including one of Ken Taylor encircled in American and Canadian flags. One of her crowning achievements to date has been a bronze bust portrait for St. John's Newfoundland of the late Sir Winston Churchill whose daughter claims it to be "the finest that she has seen". She has received the National Sculpture Society of New York Gold Medal and the accolades of art critics worldwide.
She has annual exhibitions in the Royal Canadian Academy, Montreal Museum of Fine Arts, Ontario Society of Artists and Art Gallery of Hamilton. Her work is also in public collections in the National Portrait Gallery in Washington, D.C., National Gallery of Canada in Ottawa as well as such local venues as the Art Gallery of Hamilton, McMaster University, Royal Botanical Gardens and St John's Church in Ancaster.
She is a resident of Ancaster. A gifted equestrian and breeder of New Forest Ponies. People describe Elizabeth Bradford Holbrook as kind, community-minded and richly talented. As a community, we are thankful that she has done much to share those talents with us at both the local and national level.