Edward Togo Salmon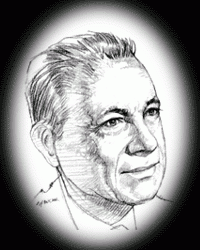 Dr. E. Togo Salmon (1905-1988)
Inducted: 1992
Named After Admiral Togo, who sank the Russian Fleet on May 29th, 1905, Dr. Salmon was born that same day in England and educated in Australia where he graduated from the University of Sydney. He pursued graduate classical studies at Cambridge University in England and the British School in Rome.
Dr. E. Togo Salmon was one of the first faculty members to join McMaster University when it moved from Toronto to Hamilton in 1930 and through the years he gained recognition as one of its foremost scholars. Several of his books on Roman History have gone thorough many editions. He served as Professor of History until his retirement in 1973, was the first Principal of University College and first Vice-President (Academic) for the Arts Division; his career as a senior administrator paralleled a period of major university growth.
He contributed with distinction to his civic responsibility; academically, in professional associations he served in Canada and abroad as President of the American Philological Association, Fellow of the Canadian Institute in Rome, and Vice President of UNESCOs International Council of Philosophy and Humanistic Studies. After the outbreak of the Second World War, he analysed the day's events and broadcast his views each evening on radio station CKOC.
Scholar, historian, writer and public figure, Dr. Edward Togo Salmon has received many honours; he was recognized by McMaster University when he was given an honorary degree and the building which houses the Arts Departments was named Togo Salmon Hall.