There is nothing to display at this time
Dorothy Hurst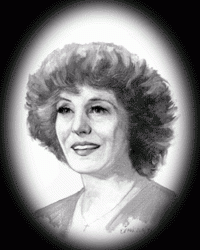 Dorothy Hurst (1914-1997)
Inducted: 1997
Dorothy Hurst dedicated her life to the young children and entertainers of Hamilton. Her career began when, at the age of nine, she travelled by train to Rochester during the summer and on holidays for ballet lessons with a former dancer of the Ballet Russe. She started her dancing at Central High School and went on to teaching for more than half a century until she retired in 1979.
Dorothy Hurst began giving dancing lessons in her dining room. During the Second World War, she joined the Victory Troupe, which performed vaudeville routines at training bases all over Southern Ontario. In 1948, she saw baton twirling for the first time and soon travelled to Binghampton, New York, to learn the art of baton twirling. When baton twirling was later incorporated into her dance-school routine, enrolment burgeoned. She thus became the founder of Hamilton's first baton twirling school and renowned across Canada for her Tigerettes, which she created in 1957, realizing a life's ambition. The Tigerettes won more than 300 group awards for their style, precision and enthusiasm. The Tigerettes performed in New York, the Calgary Stampede, Montreal, the Quebec Winter Carnival, the New Orleans Mardi Gras and Expo. She was known throughout Canada for her work with halftime shows at Ti-Cat football games.
Her dedication to the community was also highlighted by her Dancerama benefit performances at Hamilton Place in 1977 and 1979, for the Hamilton Society for Crippled Children. When Dorothy was sixty-one, she joined a local seniors' troupe called the Geritol follies. By the time she retired fourteen years later, it too had grown into an internationally renowned act touring Florida and Scotland, and attracting busloads of seniors to sell-out shows at Hamilton Place.
Dorothy Hurst died of pneumonia in January 1997.