There is nothing to display at this time
No Computers, Printers, Photocopiers or Internet at Barton Branch
Barton Branch opens at 1:00pm today, but there is no computer, printer, photocopier or internet access. We're working to fix it and will post updates on hpl.ca. Thank you for your patience.
Publish Date:
Thursday, September 23, 2021 - 11:45am
Colin Campbell Ferrie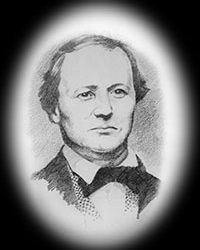 Colin Campbell Ferrie (1808-1856)
Inducted: 1988
In 1824, Colin Campbell Ferrie assisted in the newly established firm of Ferrie, Cormack and Company in Montreal, becoming manager two years later. He opened a branch in Hamilton in 1830, and later in Brantford, Galt, Nelson, Dundas and Waterloo. In 1831, his new steamship company operated the "Constitution" on the Rochester-Hamilton run. He and others established the Gore Bank. In 1835 Ferrie assumed the bank presidency, which he retained until his death. He was founder of the London and Gore Railway in 1834 and was instrumental in establishing the first Mechanics' Institute in Wentworth County. A holder of most public offices, he chaired the meetings of the Hamilton Board of Health during the 1832 cholera epidemic. In 1836 he was elected to represent Hamilton in the House of Assembly. A founding member of the Hamilton Board of Trade, in 1847 he was chosen the first mayor of the new City of Hamilton.