Claude Saunders Sr.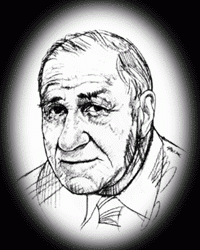 Claude Saunders Sr. (1912-2007)
Inducted: 1993
Born in Hamilton on January 25th, 1912, Claude Saunders was educated at Hess Street School and the Hamilton Technical Institute.
Recognized as the man who put the Leander Boat Club on the water, Claude Saunders is widely acknowledged for his tireless efforts on behalf of the sport of rowing.
Saunders began his interest in rowing in 1931 when he did indoor training at Westdale and within a few years became manager at Leander, an organization so strapped for funds at the time, that he raised $75 to pay the outstanding hydro bill so the clubhouse could be opened.
In 1936 he represented Canada in the "heavy eights" at the Olympics in Berlin and also competed in the 1948 Olympics. Saunders served as president of Leander for 34 years and is currently its vice-president.
He was inducted into the Canadian Sports Hall of Fame in 1982 for his significant contribution to the sport of rowing and in 1991 he was the recipient of the Bryce Taylor Memorial Award, marking six decades in rowing as a competitor, administrator, organizer and official. Although 81 years old, Saunders is still active in the sport of rowing. In addition to his continuing involvement at the Leander Boat Club, Claude currently serves as chairman of the Canadian Secondary Schools Rowing Association, chairman of the Ontario Rowing Association Regatta and chairman of the Royal Canadian Henley, the latter post which he has held since 1952.
We welcome Claude Saunders to the Gallery of Distinction as a "Distinguished Hamiltonian."