There is nothing to display at this time
No Computers, Printers, Photocopiers or Internet at Barton Branch
Barton Branch opens at 1:00pm today, but there is no computer, printer, photocopier or internet access. We're working to fix it and will post updates on hpl.ca. Thank you for your patience.
Publish Date:
Thursday, September 23, 2021 - 11:45am
Brenda Flaherty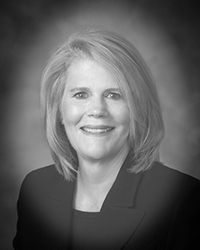 Brenda Flaherty
Inducted: 2016
Born and raised in Hamilton, Brenda Flaherty spent her formative years as a nurse, rising to the highest levels of healthcare, never forgetting caring for patients is what matters most.
Earning a Mohawk nursing diploma she got to work as a nurse in the Emergency Department.  Brenda's compassionate commitment to patients was not unnoticed. She became head nurse in the Emergency Department, beginning a journey to become one of the country's leading healthcare executives. She earned degrees at McMaster and Queen's along the way. Today, some 35 years after starting as a nurse she is Executive Vice President of Clinical Operations and COO of Hamilton Health Sciences, overseeing six teaching hospitals and specialized facilities.
Hamiltonians receive better care thanks to her leadership. She led the Access to Best Care plan, and now our children have a dedicated Emergency Department to call their own. Family healthcare is enhanced with the shifting of the McMaster site to include a dedicated women's and children's hospital and an ambulatory care facility.
Brenda's commitment to her hometown extends beyond healthcare. An active volunteer, she has been deeply involved in the YMCA movement for many years and is currently a member of the National Board of Directors and former Chair of the YMCA of Hamilton/Burlington/Brantford.
For her dedication to patients, her tireless work for a healthy Hamilton and her resolve as a volunteer and leader, Brenda Flaherty takes her rightful place in her hometown's Gallery of Distinction.