Aubrey R. Jones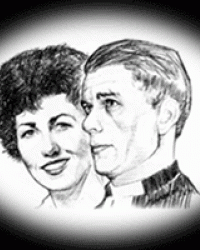 The Rev. Aubrey R. Jones (1915-1962)
Inducted: 1994
Born in 1915 near Aylmer Ontario, Aubrey R. Jones was the son of a Methodist preacher. Known as "Sin-a-little-Jones" he utilized unorthodox tactics in his work as a clergyman.
After four years of service overseas with the RCAF during the Second World War, Aubrey Jones graduated from The United Church's Emanuel College in 1947. He arrived in Hamilton in 1949 with his wife Anne to become assistant minister of Melrose United Church. Five years later Reverend Jones took over duties at Centenary United Church.
Reverend Aubrey R. Jones... energetic and innovative. In 1952 he lived in the city's dingiest streets for 45 days to research a report on poverty for United Church of Canada. He introduced "Dial-a-thought" to Hamiltonians.
In January 1962, Aubrey Jones died of a heart attack just hours after being installed as the new President of the Hamilton Kiwanis Club.