There is nothing to display at this time
No Computers, Printers, Photocopiers or Internet at Barton Branch
Barton Branch opens at 1:00pm today, but there is no computer, printer, photocopier or internet access. We're working to fix it and will post updates on hpl.ca. Thank you for your patience.
Publish Date:
Thursday, September 23, 2021 - 11:45am
Alvin Lee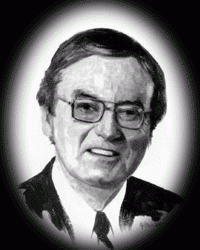 Dr. Alvin Lee
Inducted: 1996
Alvin Lee was born in Woodville, north of Lindsay, Ontario. He attended the University of Toronto where he received a Bachelor of Arts, a Masters degree in English and finally a Ph.D. in English in 1961.
He began his teaching career at McMaster University as Assistant Professor of English in 1960 and progressed to Associate Professor, Assistant Dean, School of Graduate Studies, Dean of Graduate Studies, Vice-President, Academic, and finally President and Vice-Chancellor of the University from 1980 to 1990.
Dr. Lee has held several professional memberships over the years: Member of Council, Association of Commonwealth Universities; Member, Board of Directors of the Association of Universities and Colleges of Canada; Member, Canadian Institute for Advanced Research; Member, Board of Trustees of Chedoke-McMaster Hospitals and Chair of the Fund-Raising Liaison Committee. Alvin Lee was Chair of the Council of Universities from 1983 to 1985.
Dr. Lee has volunteered his time to many community activities, including Royal Botanical Gardens, of which he was Vice-Chair of the Board of Directors. He was a Member of the Hamilton Philharmonic Orchestra and Opera Hamilton and a Member of the Board of Directors of the Hamilton Region Conservation Authority Foundation.
Alvin Lee received numerous honours and awards during his career. He was awarded a Canada Council Senior Fellowship in 1966-67, was elected a Member, Royal Commonwealth Society, England in 1962, and received a Social Sciences and Humanities Research Council Fellowship in 1979-80. He was appointed Honorary Professor of English, University of Science and Technology, Beijing, 1981 and Honorary Professor at Peking University in 1993.
Alvin Lee is the author of numerous books and articles about Old English literature and has established himself a specialist in Old and Middle English literature.
He is currently Professor Emeritus, Department of English, and President Emeritus, at McMaster University. He is also an Honorary Member of the Business Advisory Council, Michael G. DeGroote School of Business, McMaster University, and on the Management Board of the Northrop Frye Centre, Victoria University.