Allan Studholme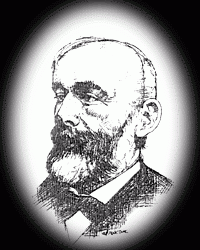 Allan Studholme (1846-1919)
Inducted: 1990
Allan Studholme, born in England, started working at an early age as a labourer and in 1978 emigrated to Canada, settling first in Dundas and then Guelph before moving to Hamilton in 1885. He found work as a stove mounter with Burrow, Stewart & Milne and became actively involved with the Knights of Labour.
He was trained in the English school of trade unionism which taught organized labour to take an interest in public life and to place a large share of its dependence on the political machinery of the country.
After a sojourn in Australia and New Zealand active as a book agent, he returned to Hamilton in 1901. He acted on behalf of the men during the arbitration of the bitter 1906 streetcar strike and as a result was elected as an Independent Labour candidate in the 1906 provincial election. He was the first labour member of the Ontario Legislature. He was never defeated and was a sitting member at the time of his death in 1919.
Allan Studholme is recognized as the father of labour legislation in Ontario. He championed such causes as the eight Hour Work Day, minimum wages, votes for women, and was greatly involved in the passing of the Workman's Compensation Act.
Honest Allan Studholme was highly esteemed both in and out of politics for his fearless and energetic advocacy of all social progress. His whole life was directed towards the enactment of laws which would benefit the working man. A craftsman in wrought iron, he has left a legacy of his craft in the gates at the Hendrie Gardens.