There is nothing to display at this time
No Computers, Printers, Photocopiers or Internet at Barton Branch
Barton Branch opens at 1:00pm today, but there is no computer, printer, photocopier or internet access. We're working to fix it and will post updates on hpl.ca. Thank you for your patience.
Publish Date:
Thursday, September 23, 2021 - 11:45am
Wasyly Fedak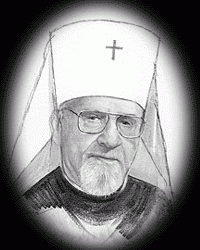 Metropolitan Archbishop Wasyly (William) Fedak's (1909-2005)
Inducted: 2000
His Eminence Metropolitan Archbishop Wasyly Fedak was born on November 1, 1909 in the province of Bukovina, Ukraine. Three years later, the young William Fedak arrived in Canada with his parents and five siblings, and settled in the White Creek, Parkerview District in Saskatchewan.
After high school, young William enrolled at the Teachers College in Saskatoon and taught for approximately 15 years at various public schools. He involved himself with helping young people and took an active part in his community. He understood that working with youth was an important challenge and has always believed that "In order to pass on our faith and our traditions and our culture we have to work with the youth."
In 1941 he entered a church Seminary of the Ukrainian Greek Orthodox Church of Canada, where he studied theology. And in 1944 he was ordained into the priesthood.
Reverend Fedak commenced loyal pastoral work that would extend more than 30 years of service to parishes in Manitoba and Ontario. In Manitoba he organized new parishes and supervised the construction of five new churches in Oakburn, Sandy Lake, Such and Angusville. In 1950 he commenced a 28-year tenure at the Cathedral of St. Volodymyr in Hamilton. During his time at St. Volodymyr's congregation grew from 47 to more than 500 families. Three Metropolitans recognized his service of distinction and honour and in 1971 he was awarded the Mitre, the highest ecclesiastical award the Orthodox Church bestows for exceptional service.
In 1976 he was recommended as a candidate for bishop and was consecrated July 15, 1978 receiving the title of Bishop of Saskatoon and Vicar of the Central Diocese. In 1983 he was elevated to the rank of Archbishop of Toronto and the Eastern Diocese. His devotion and knowledge continued to grow as he was elected and installed as the Metropolitan of Winnipeg and all of Canada.
Throughout his many years of distinguished service, Metropolitan Wasyly has been recognized as a great Ukrainian Canadian leader and an eminent figure. He's received honours from the City of Hamilton and the Premier of Ontario (1966), and two honours from Canada through the Governor General including appointment as an Officer of the Order of Canada and the Canada 125 Commemorative Medal (1992).
Metropolitan Wasyly's dedication and commitment to the church for more than 55 years has presented him as one of Hamilton's most important church figures and community leaders.