Irving Zucker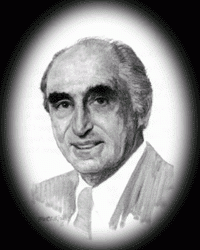 Irving Zucker (1920-2002
Inducted: 1995
Irving Zucker was born in Hamilton and grew up in the city's north end, where his father worked as a watchmaker. He joined the RCAF during World War II and trained bomber and gunnery crews.
Following his discharge, Irving Zucker became interested in radio broadcasting, and founded CHIQ and later CHAM in Hamilton. Eventually, he assembled a network of radio stations in Ontario and in Eastern Canada. In addition to his broadcasting interests, Zucker was president of Standard Industries Limited, Public Service Lighting Inc., and a director of Income Life Insurance Co.
Irving Zucker inherited from his parents an appreciation for charitable work. Throughout his business career, he has supported various Jewish charities, as well as the United Way, and fundraising for the Hamilton Place Auditorium. In 1967, he founded the Irving Zucker Foundation - financed from his business ventures. The foundation established scholarships at McMaster University and has funded the Zucker Lecture series there.
In the late 1960s, the businessman became interested in art. In his many world travels, he began to acquire paintings and sculptures. By the 1980s, Irving Zucker had sold his broadcasting interests and increasingly was concentrating on his art collection.
Zucker had determined to devote the rest of his life to philanthropy, particularly in the field of art. In 1988, he provided the funds to allow for the restoration of the Blair Bruce painting collection at the Art Gallery of Hamilton. He donated works of art valued at $2.5 million to the gallery in 1991. His donation of $500 000 was instrumental in allowing Theatre Aquarius to proceed with the construction of a new theatre building. In 1994, Mr. Zucker donated 7 priceless sculptures which had adorned his own garden to the Art Gallery of Hamilton. The pieces are located in the Irving Zucker Sculpture Court on Commonwealth Square adjacent to the gallery.