Frank Raso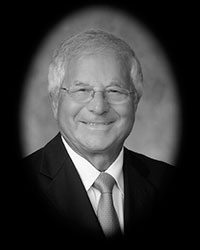 Frank Raso
Inducted: 2017
A proud and robust element of Hamilton's character is its Italian community. Frank "The Candy Man" Raso has devoted more than 40 years to galvanizing that community into celebrating and sharing its achievements, and to creating new achievements that have made Hamilton a better place for all its residents. A founder of Festitalia, who still serves on the Board, Frank is also a member and past president of the Sons of Italy – among his many community roles. 
Born in the province of Calabria in 1938, his father brought him to work one day when he was a boy of 12, showed him a huge hole he had been digging by hand, and told him to get an education. Frank moved to Canada and took at job at Allan Candy. Though he became plant manager within three years, he took night courses at Humber College, McMaster University and Mohawk College for 16 years, to upgrade his skills and do the best he could in the job he held until his semi-retirement in 2003.  Frank continues to keep busy as Director of Development at Karma Candy, Vice-President of PANJ Confections and President of NCM Machinery.
His many personal achievements include leading the effort to bring – direct from Italy – a real Italian opera production of The Barber of Seville to Hamilton, as part of Festitalia, an initiative which in turn contributed to the creation of Opera Hamilton in 1980. Throughout his life in Hamilton, Frank has been known as someone who is always willing to help, and has served on the boards of the Hamilton Philharmonic Orchestra, and Opera Hamilton. He is Past President of Sons of Italy Trieste Lodge, and founding Board member of Sons of Italy Housing Corporation and SOI Charitable Corporation (Villa Italia). He was named Italian-Canadian Citizen of the Year in 1977.
His advice for those who wish to succeed: "You must meet challenges as they occur. Don't put off till tomorrow what you can do today."