Edward Cummings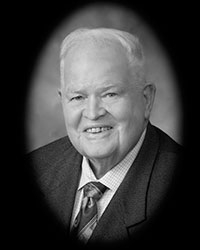 Edward Cummings
Inducted: 2017
Ed Cummings isn't Santa Claus, but he's not far off. Cummings spent 35 years as the driving force behind Hamilton's Santa Claus Parade. The affable former Hamilton-Wentworth Police Officer, who first worked the Parade on crowd-control duty, would go on after his policing years to organize the whole event – featuring 1,500 people on floats and in bands, and drawing as many as 80,000 spectators each year.
Cummings shared his business, Mountain Auto Body, as Parade HQ. He helped to raise funds by organizing golf tournaments and hot-dog sales, in all spending the equivalent of eight working weeks or more on the Parade every year. His success led to his being tapped to organize the 1996 Grey Cup Parade.
Cummings, a father of seven, might have been forgiven for drawing the community-service line at parades, but he also earned the Service to Mankind Award as a member of the Sertoma Club and served as president of the Mount Hamilton Kiwanis Club, helping to raise money for many community projects such as the Sackville Community Centre and community playgrounds. Cummings, also the chair of the annual Wearing of the Green events, has previously been named Hamilton's Irish Person of the Year and the Rotary Club's Mountain Citizen of the Year.
Nearly 25 years ago, when a reporter asked Cummings why he worked so hard for Hamilton, he answered: "It's your home. You always want to put something back in."